Mitsubishi Transmissions
The Mitsubishi Truck Transmission Experts
Mitsubishi is known for implementing the DCT, or the dual-clutch transmission featuring two separate clutches that are commonly operated automatically. Apart from this, Mitsubishi has also manufactured the well-known DUONIC transmission series for race cars. These automated manual transmission systems were actually the first ones ever to be used in commercial vehicles – the six speed Duonic Transmission comes with wet clutches that allow the truck driver to smoothly operate the truck and to easily shift the transmission from the fully automatic mode to the manual mode, whenever needed. The Mitsubishi FUSO truck series is known to use the Aisin Seiki, Allison, as well as the Jatco transmissions.
The main advantage of the Mitsubishi 6-speed DUONIC system for the FUSO truck series is that this truck transmission allows drivers to move payloads faster and easier than ever before. Moreover, the Mitsubishi truck transmissions also tend to be more lightweight and compact than those of its competitors, and they are specifically designed to be economical and combustion-efficient at the same time. Regarding the features and specifications of the DUONIC systems, these truck transmissions are convenient and cost-effective, as they combine both the manual and the automatic transmission. The dual clutch actuation that is embedded into this type of truck transmission also prevents all torque interruptions that may occur between shifts.
We offer parts for all models and can assit with repairs and rebuilds and also new gearboxes. We ship daily throughout the country including, Brisbane, Gold Coast, Sydney, Melbourne, Adelaide, Perth, Darwin and Alice Springs.
Models
The FE145 dual-clutch transmission system for the Mitsubishi FUSO truck series features four cylinders as well as a five-speed, manual transmission that is rated at no less than 147 HP, just enough for this truck model;
Another notable truck transmission model is the Mitsubishi FUSO Rosa BE649, which is a fully automatic five-speed gearbox transmission;
The 9-speed Mitsubishi Fuso Fighter FN-6 transmission models are commonly used for medium-sized trucks;
The Mitsubishi FV-series transmissions are suitable for all truck models regardless of their manufacturing year, and they come in 10, 13, 15 or 18-speed versions.
Other models include:
ROsa BE649
Rosa BE64D
FC432
FB511
FE444
FG434 & FG 439
FK 415
FM 515
FN 61F
FH100
FP 6X2
FS 8X4
FV 6X4
FE439
FG647
Our team are experts at Mitsubishi rebuilds, reconditioned and new transmissions. Contact our team today to discuss questions regarding your requirements.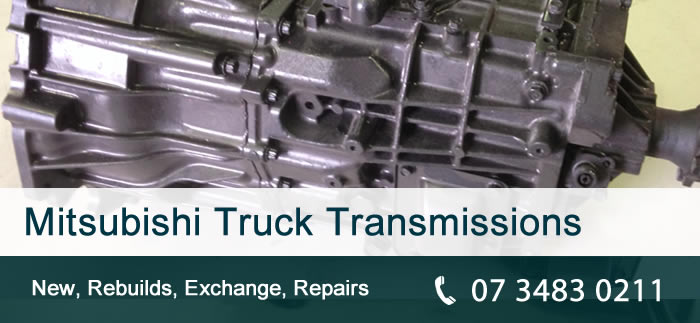 Phone us today on: 07 3483 0211